Turntables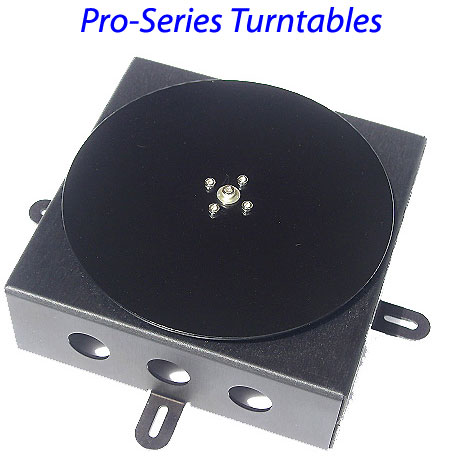 Now Shipping!
Order Yours Below!
Precision machined all aluminum construction
Super smooth, sealed ball bearing turntable support
Fits the AX-12A, AX-18A, MX-28, MX-64 and MX-106 Robotis Servos
Hard Anodized Black Finish
A great platform for tilt/pan systems, robotic arms etc.
Pro-Series Robotic Arm components compatible
Integrated mounting tabs for secure installation
All Turntable Mounting Tabs - 5.25in.(13.33cm) center to center
Are you a School, University or Business?
Click here
to go to our purchase order page with information on how to place your purchase order with Crustcrawler
AXtrntbl

Contains (1) Complete Pro-Series AX Turntable Hardware Kit
Compatible with the AX-12A amd AX-18A actuators
Sealed, self lubricating turntable bearing support
(1) Turntable spacer and mounting kit
Dimensions = 4.5in X 4.5in X 1.50in (11.43cm X 11.43cm X 3.81cm)
Mounting Tabs - 5.25in.(13.33cm) center to center
Finish - Hard Anodized Black
MX28trntbl
Contains (1) Complete Pro-Series MX-28 Turntable Hardware Kit
Compatible with the MX-28T / MX-28R or RX-28 (N-101 type only) actuators
Sealed, self lubricating turntable bearing support
(1) Turntable spacer and mounting kit
Dimensions = 4.5in X 4.5in X 1.50in (11.43cm X 11.43cm X 3.81cm)
Mounting Tabs - 5.25in.(13.33cm) center to center
Finish - Hard Anodized Black
MX64trntbl
Contains (1) Complete Pro-Series MX-64 Turntable Hardware Kit
Compatible with the MX-64T / MX-64R or RX-64 (N-101 type only) actuators
Sealed, self lubricating turntable bearing support
(1) Turntable spacer and mounting kit
Dimensions = 4.5in X 4.5in X 1.70in (11.43cm X 11.43cm X 4.31cm)
Mounting Tabs - 5.25in.(13.33cm) center to center
Finish - Hard Anodized Black
MX106trntbl
Contains (1) Complete Pro-Series MX-106 Turntable Hardware Kit
Compatible with the MX-106T and MX-106R actuators
Sealed, self lubricating turntable bearing support
(1) Turntable spacer and mounting kit
Dimensions = 4.5in X 4.5in X 1.70in (11.43cm X 11.43cm X 4.31cm)
Mounting Tabs - 5.25in.(13.33cm) center to center
Finish - Hard Anodized Black